100 Miles For Autism
On Saturday, August 14 three Pictou County Dads who have a special tie to Autism and Autism Nova Scotia - Pictou County Chapter (APC) are once again taking on a challenge to raise awareness and funding support for the local Chapter. You guessed it; we are riding our bicycles 100 Miles for Autism!

Autism Pictou County has one major fundraiser each year called "Walk the Walk for Autism" which traditionally is a fun family event with hundreds of participants, carnival games, silent auction and more. Unfortunately, due to the Covid-19 pandemic, for the second year in a row this event has been changed to a virtual event taking place Saturday June 12 and renamed Walk Your Way For Autism. This event funds all of the chapter's many programs and services and benefits more than 130 local families living and dealing with autism.

Last year, with the change to a virtual event, fundraising proved to be much more challenging putting many of the Chapter's key programs in jeopardy. To support this fundraiser, these three Dads have teamed up to help do their part. Their plan is to cycle around Pictou County a total of 100 miles in one day (known as an imperial century in the cycling world, approx. 7.5hrs in total) to raise awareness and funds for Autism Pictou County.

The Dads:

Colin Wood has a son Connor who is 18 years of age and was diagnosed with Autism when he was 3. Colin sits on the Executive Board for APC and serves as the chapter's "Walk the Walk" coordinator and has been cycling for 7 years.

Adam Casey has a son Aydon who is 15 years of age and was also diagnosed with Autism when he was 3. Adam sits on the Executive Board for APC as Vice-President and started cycling 3 years ago.

Kevin Tulloch has a son James who is 17 years of age and is diagnosed with a lesser known disorder called Fragile X syndrome. Over the years, James has benefitted from the programs offered by APC. Kevin has been known to volunteer for many local events and also complete challenges in support of many important programs such as swimming from NB to PEI for a Camp Brigadoon fundraiser. Kevin has been swimming, running marathons (including ultras), and cycling for over 35 years.

The Plan:

The ride will begin and end at Autism Pictou County's office at Bridgeview Square, New Glasgow. We plan to ride at an average pace of 25km/hr leaving at approx. 6:45am August 21 and arriving back at APC around 2:30pm. We will have a small celebration and some light snacks/refreshments at the APC office beginning at 2:00pm and would like to encourage the public to stop by to enjoy and greet the weary riders adhering to Covid-19 protocols and distancing.

These are our planned stops along the route. We encourage the public to come out and show their support with the approximate times listed as guides. Donations will also be collected at the stations. Also Ride With Gps Route link is here: https://ridewithgps.com/routes/33807112

Autism Pictou County 6:45 AM Departure (Bridgeview Square, New Glasgow)
1. Sumac Farms 25 km 7:45 AM
2. Michelin 50 km 8:50 AM
3. Pictou Waterfront 80 km 10:15 AM
4. Toney River 105 km 11:25 AM
5. Scotsburn Fire Hall 125 km 12:40 PM
6. Autism Pictou County 161 km 2:30 PM Arrival

What to do:
• If you would like to support the event, please go to the top of this page and click "Sponsor Us" on the right-hand side. Our team's name is "100 Miles for Autism". Official Income Tax receipts are available for donations $20 and over and will be provided after the Walk Your Way event in September.

• Want to join the ride? All are welcome, however please keep in mind that the full 100-mile distance would not be recommended for beginner riders. While this is not an official Bicycle Nova Scotia event, if you would like to join the ride, we would love to have the support. You don't have to ride the entire route. You can register at www.100miles.ca Please feel free to join us at APC for the start or at any of the rest stations above per the estimated schedule and continue as long as you like. This is an unsupported event so please show up prepared with your own food and supplies for whichever distance you plan to ride. Participants ride at their own risk.

• There is No Entry Fee for this event!!! However, we request that anyone who is planning on participating with us that they join as members of our team "100 Miles For Autism" by clicking the "Join Our Team" button at the top right of this page and either make a small donation, or collect pledges in support. We also recommend cyclists have front and back lights and are registered as a member of Bicycle Nova Scotia but these are not required. Register TODAY and let's Ride for Autism on August 14th!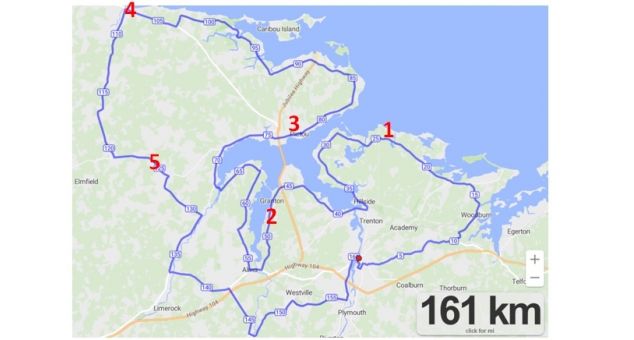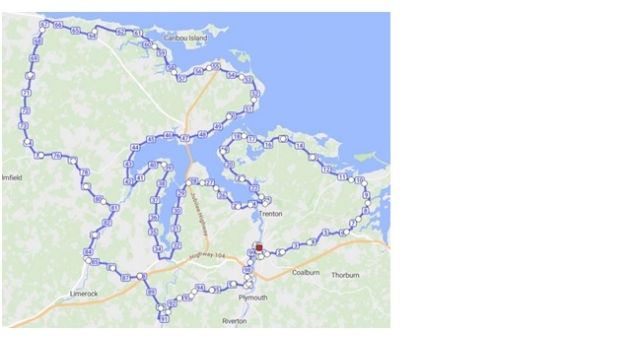 Coordinator Contact

Colin Wood
stellarton.wtw@gmail.com
902.759.1424 (cell)
902.928.4040 (fax)
Team Members
Great things are happening!