Kingston
Join us for family fun on September 24th at Berwick Elementary School for our Annual Walk Your Way fundraising event! Register today!
Feeling creative? Participate in our T-shirt Design Contest!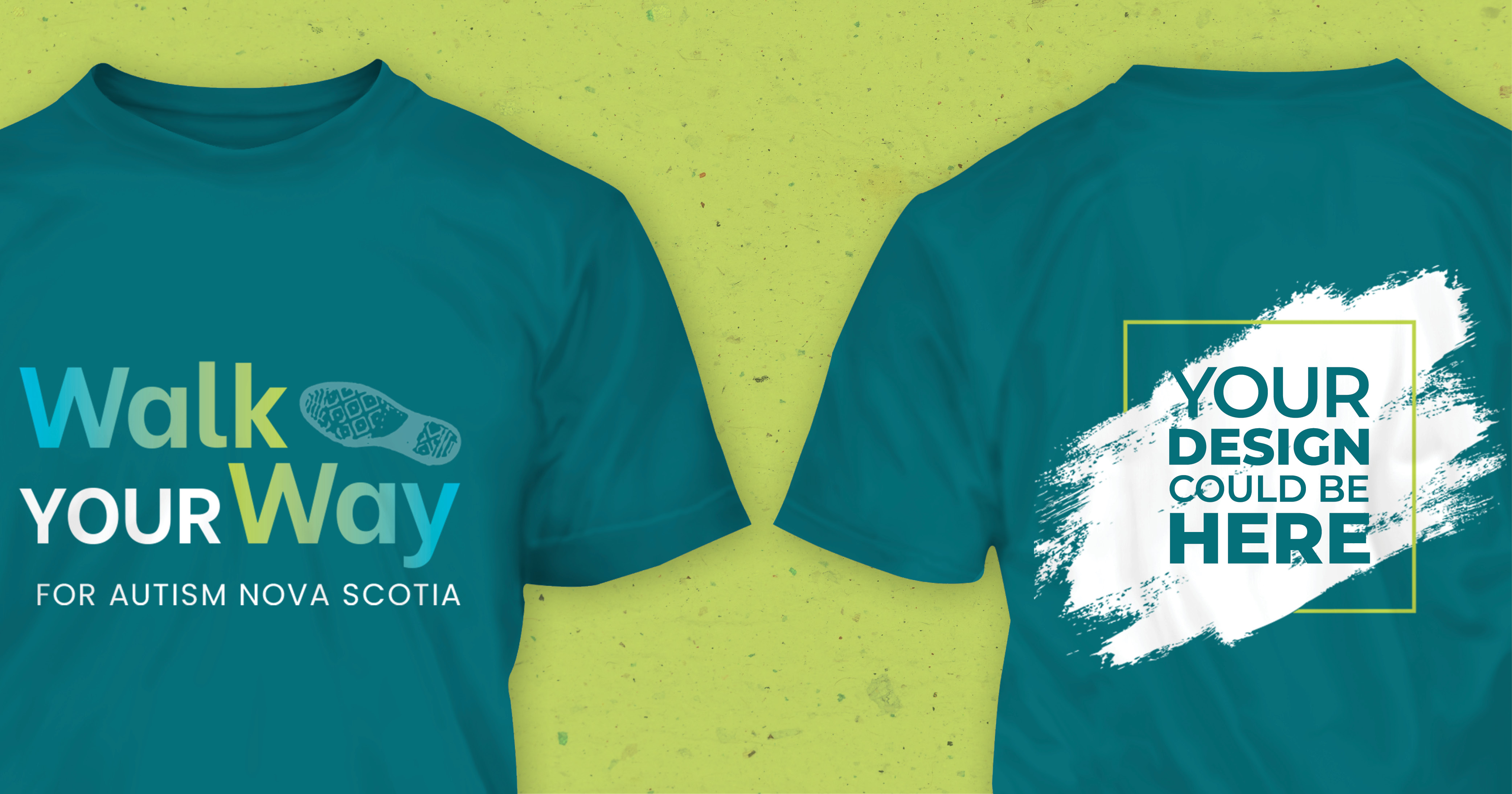 Autism NS is inviting individuals on the autism spectrum (autistic individuals) or individuals who identify as autistic to participate in this exciting T-shirt Design Contest.
Your design should be inspired by our vision and mandate of Autism NS. Our Vision: A world where autism is understood, accepted and everyone is living their lives fully.
Our Mandate: We are a community-based organization that builds understanding, acceptance, and inclusion for individuals on the Autism Spectrum and their families through leadership, advocacy, training and programming across the lifespan.
Your design will appear on the Back of the shirt only, as our Walk Your Way logo will already be visible on the front of the shirt.
You may submit up to two designs, but they must be submitted as separate entries. Your design must be wholly original. By submitting a design you are guaranteeing that you hold rights to everything in it, and that it does not contain any copyrighted material.
Design Requirements:
Submissions should be saved to 300 dpi to produce a quality output.
Acceptable files are high resolution JPGs, PDFs, TIFFs, AI and EPS files.
If you own the winning design, you will be required to provide the original design in a high resolution file. JPGs, PDFs, TIFFs, AI and/or EPS files.
The design should not include puzzle pieces or any language associated to 'light it up blue'. While we understand that these symbols are still representative and meaningful in some autism communities, they are not consistent with Autism Nova Scotia's messaging and brand.
You are permitted but not required to incorporate elements of the "pinwheel" and/or walk logo as part of your design.
It is not required that the words "Walk Your Way" are incorporated in your design, but you may relate the design back to this theme, along with our vision statement.
Designs with a maximum of TWO (2) colours are preferred.
The design will be on the back of the shirt and should be contained within a 14 by 17 area.
The colour of the shirt will be decided upon with consideration of the winning design.
Designs will be judged on the following:
Concept/originality
Captures spirit of the Walk Your Way for Autism NS and our values statement that we live in a world where autism is understood, accepted and everyone is living their lives fully.
Striking and memorable design
Visibility – eye-catching and visible from a reasonable distance
Completeness of design – must be ready for print
Feasibility/must be easy to reproduce
Submission Guidelines and Agreement:
Participants should be on the autism spectrum, or identify as an autistic individual (individual with autism). There is no minimum or maximum age to submit an entry.
If you are under the age of 18, your design must be submitted on your behalf by a parent or guardian.
Autism Nova Scotia will have first printing rights to the winning design.
By submitting a design you agree that if your design wins, it can be used by Autism Nova Scotia on a t-shirt and other promotional items, including the Autism Nova Scotia website, social media channels and marketing and public relations materials.
The winner and image of the design will also be recognized in our e- newsletter and on social media.
Autism NS staff members are not eligible to enter.
By submitting you are agreeing to all contest rules.
Entries will be judged by a panel of Autism NS staff, selecting One Final Winner.
The winner will be notified by phone or email - via the information provided on the submission form.
Please note that Autism Nova Scotia reserves the right to make adjustments to the winning design.
Upon contacting the winner and determining that they have met all eligibility requirements of the contest, such individual will be declared the "winner" of the contest via website, social post, enewsletter and possible media release.
Contest begins on Friday, April 29, 2022
You must submit your design by midnight, Friday, May 27, 2022
All entries should be submitted with the art work using the following submission form
Details
Date: Saturday September 24th, 2022

Coordinator Contact

Shauna Jacobs
902-242-2019
avnavigator@autismns.ca